'We have to start fresh:' Away from the field, Packers' Amos, Jones keeping football focused
GREEN BAY -- The Green Bay Packers have not been back on the football field since being drubbed in the NFC Championship Game at San Francisco.

More than four months have passed since that night, and the world has provided many distractions in the interim -- but the result of that game has not been forgotten.

"Any time you get that close, one game away from going to the Super Bowl, it hurts. But we have to start fresh," said Packers safety Adrian Amos. "Leading into the season, we have to become the best team that we possibly can be. And then take advantage next time we are in that situation and that opportunity to get to the Super Bowl."

Running back Aaron Jones scored two touchdowns in that NFC Championship Game loss, capping off a brilliant personal season -- and raising the bar for the 2020 campaign.

"I want to win a Super Bowl. We were one game short," Jones said. "I mean, it's not all about me. It's about the team, and I think we all felt we were just one game short. So I think that is all of our goals and we are focused on the team's main goal."




Some believe you are only as good as your last game. For that reason and many others, the Packers are eager to play again. Technically in the midst NFL offseason now -- perhaps a term ringing truer than ever -- players would normally have been involved some form of organized team activities (OTAs.) That's not the case during the COVID-19 pandemic.

"I know a lot of people complain about OTAs, but right now I am wishing I was back at OTAs with some structure just being around your teammates," Amos said.

That lack of time away from home has led to some changes in the Jones household.

"There is a lot more trash in the house than we have ever had. We have everybody home for the first time in a long time. A lot more chores, a lot more dishes because you are in the house. But I am enjoying my time with my family," said Jones.

Jones and his girlfriend welcomed their first baby, a son, during the global pandemic. He is also spending time with another part of this family, working out in the garage with his dad.

"It's like going back to being a little kid and back in the garage working out with your dad," Jones said.

So, where is this all leading? Will there be games to play in the Fall?

"I would be comfortable going out there and playing just because I know I take care of my body well enough. I take care of my hygiene, washing my hands," said Jones.

Preparation, yes. Pay off? We will see.

"Everything is pointing to us playing, so I am just preparing as if we will be playing come the fall," Amos said.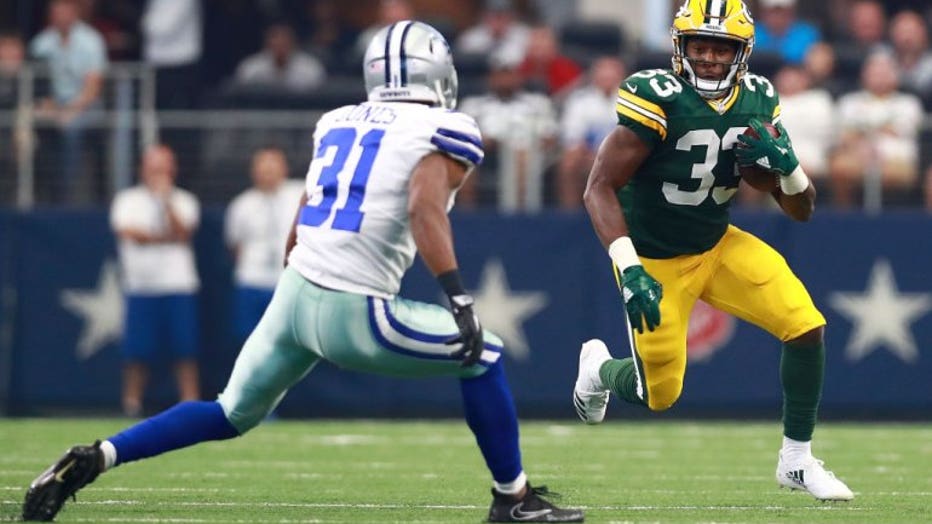 ARLINGTON, TX - OCTOBER 08: Aaron Jones #33 of the Green Bay Packers carries the ball against Byron Jones #31 of the Dallas Cowboys in the first half of a football game at AT&T Stadium on October 8, 2017 in Arlington, Texas. (Photo by Tom Penning


Jones gave hints during his first two professional seasons that he could be pretty productive if he could only be healthy enough to stay on the field. In 2019, he had perfect attendance.

"18 games. The things I did last offseason helped me stay healthy for this past season, to complete all 18 games and not have any problems, so just continuing to do that," Jones said.

Jones led the NFL in touchdowns last season, which is pretty good timing since his rookie contract is up after this season. Then again, running backs rarely break the bank.

"Whether it's the first year or the last year of my deal, I am going to be just as motivated. It doesn't change just because a contract is on the line, for me," said Jones. "I am just focused on myself. I feel like I can play at a very high and elite level for a really long time. I am just going to do what I can and, hopefully, that leads to me being a Packer for life."

Just as the team raised eyebrows for selecting a quarterback in the first round in this year's draft even though Aaron Rodgers is still on the roster, Green Bay selected a running back in the second round of this year's draft even though Aaron Jones is still on the roster. Jones says he welcomes the competition.