$2K for sneakers?! Most are never worn! They've become collector's items; value increases over time


MILWAUKEE -- $2,000 for sneakers?!  A Milwaukee shoe store wants to make sure you get what you pay for.

They're the collector's item right at your feet.  High-end sneakers are commanding huge prices, and sellers say their value only increases over time.

Shoes are the new status symbol.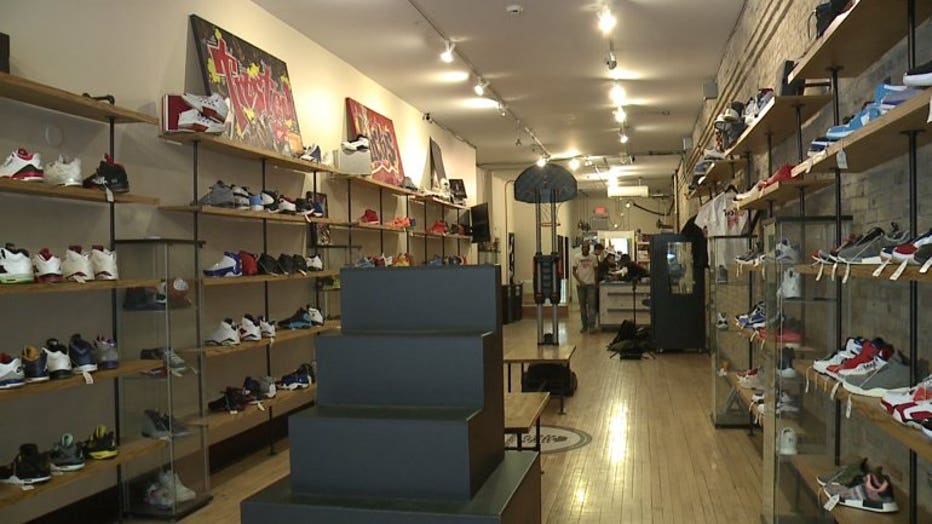 "It's a collector's market that's getting new collectors daily," said Luther Bowens – better known by his alias Rico Jones.  He's the owner of Trusted Kicks, located on Water Street in downtown Milwaukee.  Jones wants to sell you his soles.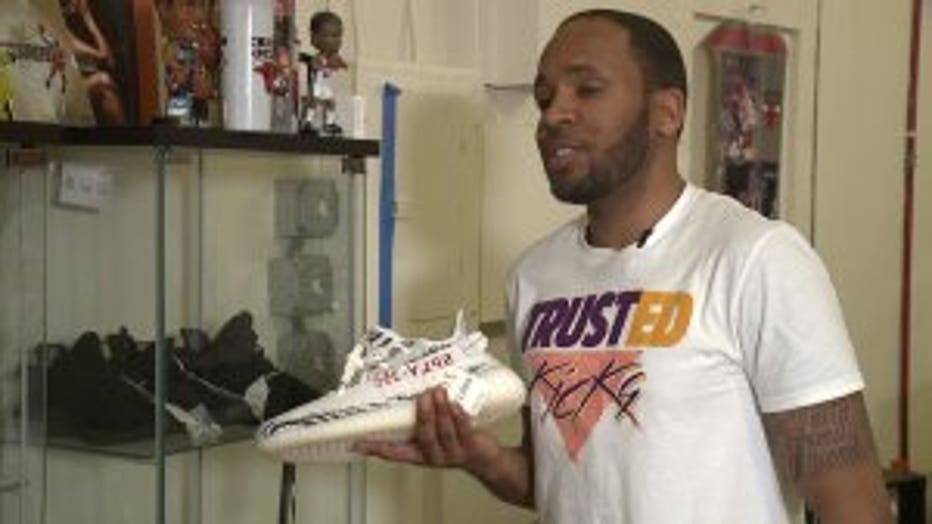 "We're actually becoming, like, a destination," Jones said.

His store opened in downtown Milwaukee a year-and-a-half ago -- just in time to take advantage of a growing industry.  Sneakers are hot right now, and second-hand shoes are just as big.

"80 to 90% of is pre-owned," Jones explained.  "That allows us to price it way cheaper than the market retail of the shoe."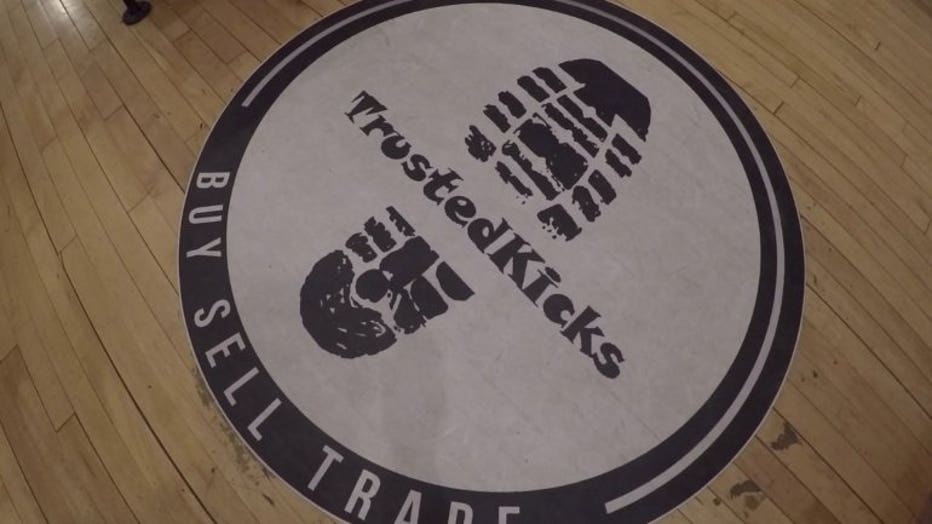 Jones came up with the idea in college.  He recognized, early on, that sneakers were quickly becoming a collector's item and their value was increasing over time.  For example, a pair of new shoes by singer Pharrell Williams retailed for $225 late in 2016.  But in March of 2017, demand has pushed the price tag to $800 in the collector's market.  Jones said the shoes were made in a limited quantity and color.

"This shoe right here -- never released in Milwaukee.  They released a yellow version in Milwaukee, but this color -- never released in Milwaukee," Jones said.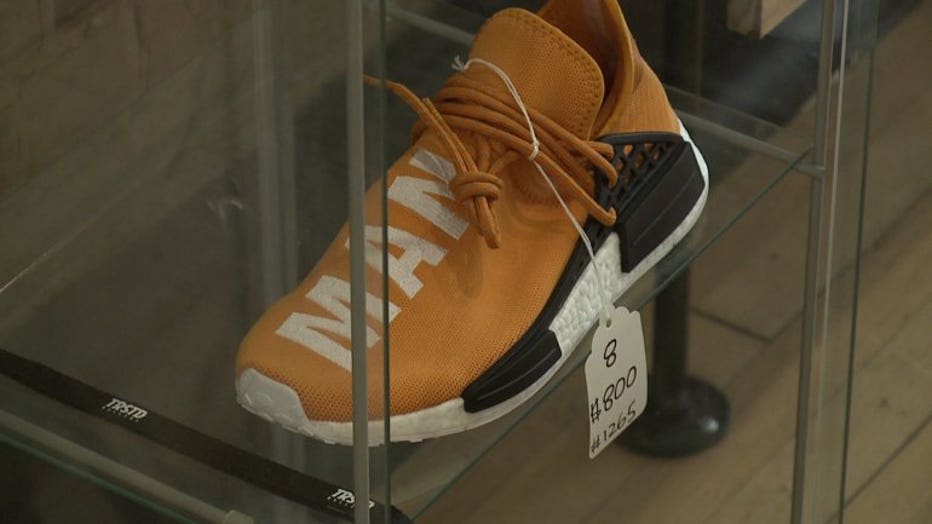 Of course, time and treads can have an impact.

"Once you wear the shoe – it's kind of like a car.  You drove it. You wore it, and it only depreciates in value the more times you wear it," Jones said.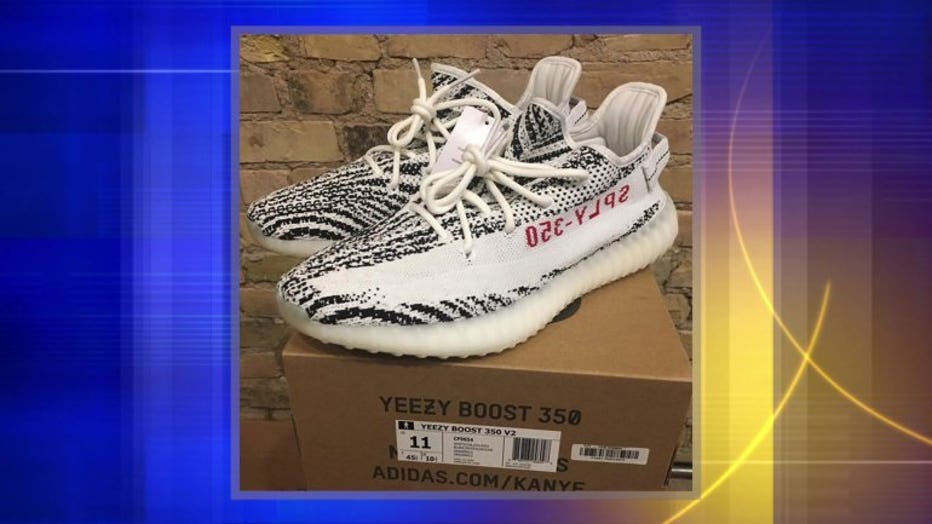 Trusted Kicks -- the Yeezy


The most extravagant shoe in the store is kept in a glass case. The Yeezy, designed by rapper Kanye West and sold by Adidas, is considered the "Rolls-Royce" of the collector shoe market at the moment.  At Trusted Kicks, a Yeezy 350 V2 Zebra is selling for $2,000.  Jones said he sells four to six pairs of Yeezys a day.  He joked that some customers tell him they're too cheap.

"Sometimes we get customers in here after they buy them and tell us we should raise the price.  Some places around the country are about $2,500," Jones said.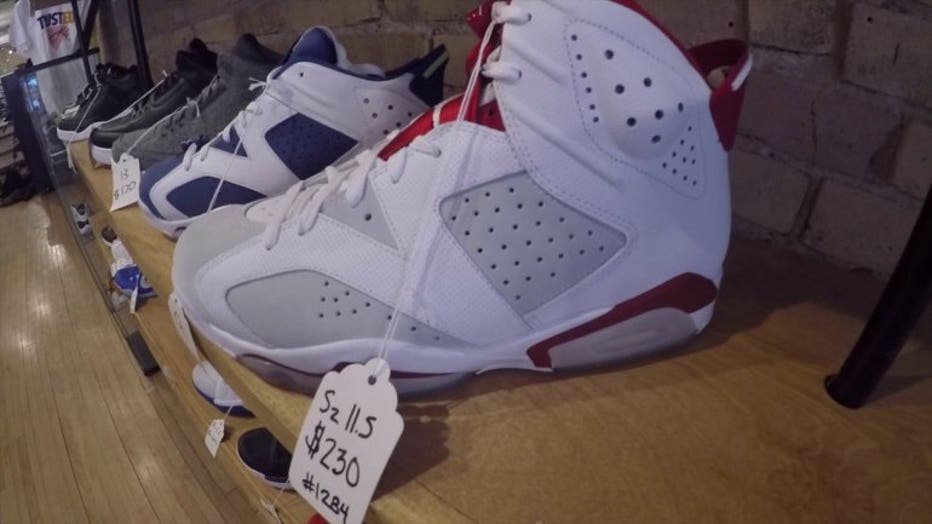 Jones travels to shoe conventions in places like Phoenix and Cleveland to find the best deals.  He brings them back to the store to sell them.  What may surprise you though, is who's buying them.

"14 year olds, 12 year olds come in here and have more knowledge than me sometimes," Jones explained.

Rappers like Kanye West have a big influence over teens, but Jones said social media is just as big of a factor.  On the store's YouTube page, there are several videos of young kids who come to Trusted Kicks to trade a half-dozen pairs of their sneakers to be able to afford the Yeezys.  Trusted Kicks' Instagram page has nearly 150,000 followers -- more than seven times as many as Marquette University.

Jones relies on social media in lieu of advertising and it's working to create free publicity.  The majority of Jones' business – nearly 80% when he first opened – was through online sales.

FOX6 News asked Jones if he ever feels bad selling a $1,000 or $2,000 pair of shoes to a teenager.

"I'm actually happy, because that means that the kid was able to sit down, set a goal, work towards it and in that moment he didn't have to buy the $2,000 shoes.  He could have started a $2,000 college fund.  He was able to sit down, make a goal and reach the goal," Jones said.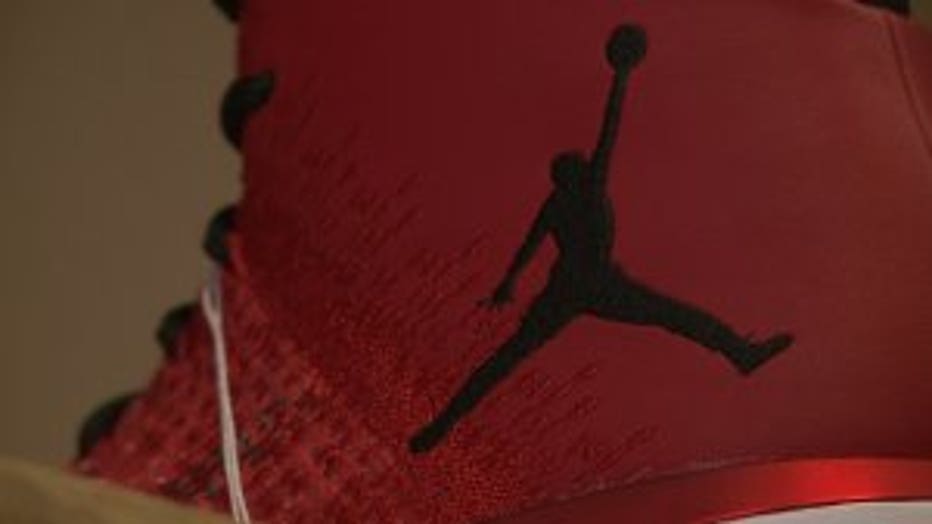 Jones said he started the same way, and recalled mowing neighbors' lawns to save up to buy his first pair of sneakers: the Jordan Bred 13s back in the late 1990s.  His uncle took him to the store and waited in line with him to buy them.

Despite a steady stream of teens entering Trusted Kicks each day, it's not just kids buying these shoes.  Brandon Mattox, a local high school basketball coach is a self-professed 'Sneakerhead.'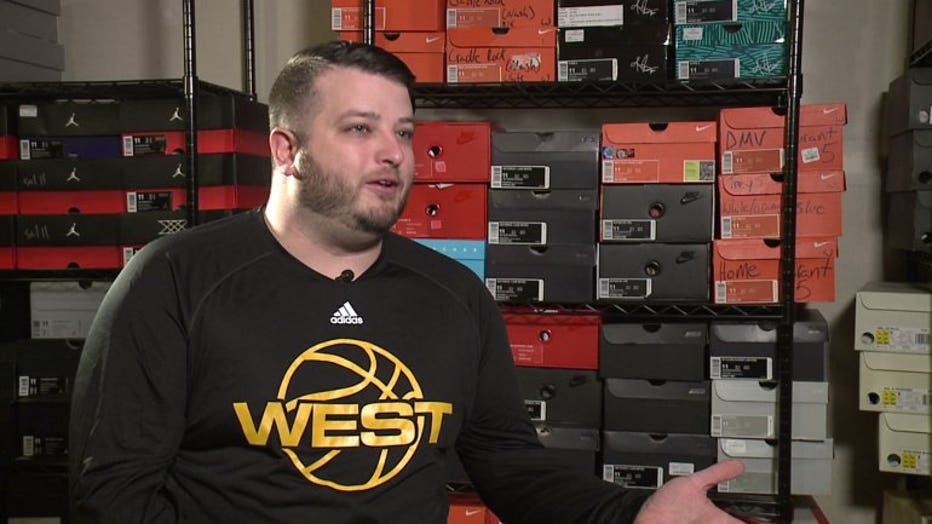 "You'd be hard-pressed to walk into a shoe store in Milwaukee and give my name and them not know me," Mattox said.  "The first two questions I get every time when people find out -- how much is it worth and how many do you have.  I honestly, as far as numbers go, have no clue."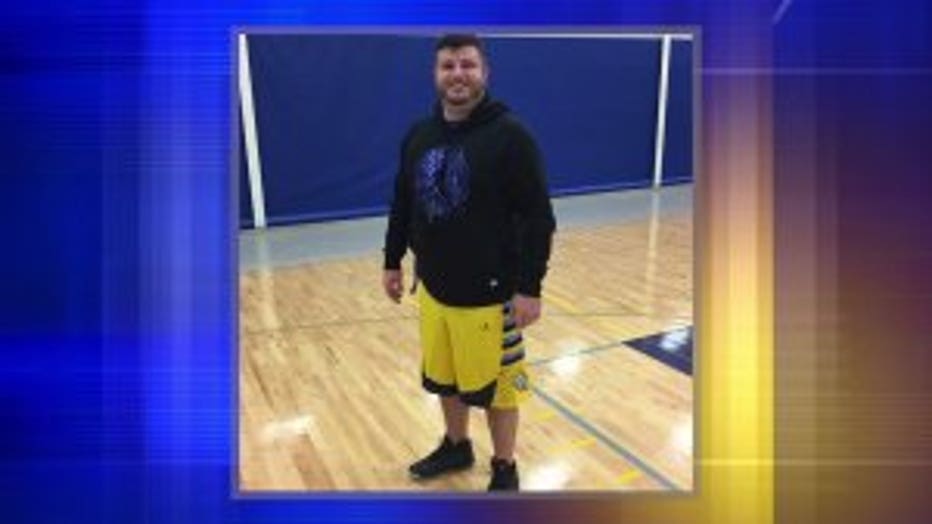 This wall in his basement only represents the shoes he's purchased in the last two or three months. The rest of his collection is scattered in family member's homes and in storage units.

"There's still that part of me that is like...the thrill of the hunt.  Finding it – something that no one else has," Mattox said.

Mattox wears only a few dozen shoes from his collection.  The rest remain in the box.  Others have personal value.  He was married in a pair of red and white Jordans.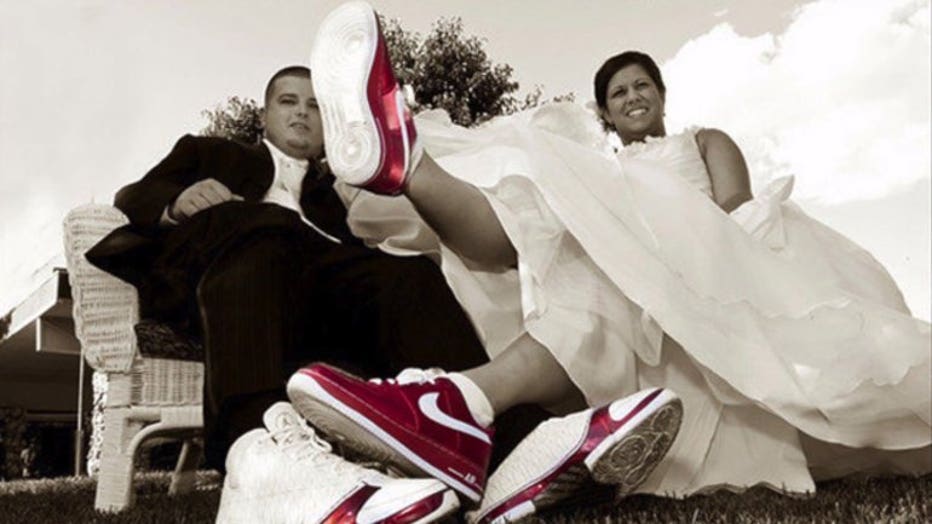 "I bought them at Champs at Mayfair," he recalled.  "I bought all of the size 11 (shoes) they had."

Mattox said he got funny looks from the cashier.

"Yeah, it was like, a Thursday, and they said, 'do you have a basketball team or something?'" Mattox said.

The extras were for him to keep and for other members of his wedding party.  At the time of his marriage in 2008, he had to take out a loan to pay for them.

"Jordans have always been a staple for me," he said, pointing out that he named his son Jordan.

When the boy was born, he even had his own special pair of shoes.  Mattox credits the former Chicago Bulls player for starting the trend of high-priced shoes.  Over the years, those shoes have been good to him.

"I have sold sneakers.  Most bigger purchases I've made in my life -- an engagement ring, a down payment on a house – was made with sneakers," Mattox said.

With the rise in prices of these sneakers also comes the rise in counterfeit products flooding the market.  Mattox, who insists he pays no more than $500 for a single pair of sneakers, warned: "The Yeezy stuff is – in the southeast Wisconsin area, probably for every one real one you see, there are two fakes."

That's one of the big services Trusted Kicks provides.

FOX6 News asked Jones how he knows the Yeezy he's selling or buying is authentic.

"The easiest thing about knowing that this is an actual Yeezy shoe is we buy a lot of them with an actual retail receipt," he explained.

Think of it as a certificate of authenticity.  Adidas provides online look-ups for any receipt printed by an authorized retailer.  The manufacturer also designed the shoe to have certain "tells" that it's authentic -- including special markings that only appear if put under a black-light.

"It would tell you that it's authentic," Jones said.  "The non-authentic ones would be cheaply made and would not have the black-light function on it."

If you're looking to collect -- make sure you get the original sales receipt.  While you're at it, keep the shoebox too.  Jones said that can increase the value of the shoes by as much as $400.  You should hang onto the tags, extra laces and anything else inside too.  Jones said it also helps if your secondhand shoes don't have a foul odor.

If all this is making your head spin, we'll leave you with one last footwear fact: Many consider the holy grail of shoe-collecting to be a pair worn -- not by Michael Jordan, but by Michael J. Fox.  The Nike Mag, a replica of the ones Fox wore in "Back to the Future: Part II" can command serious cash.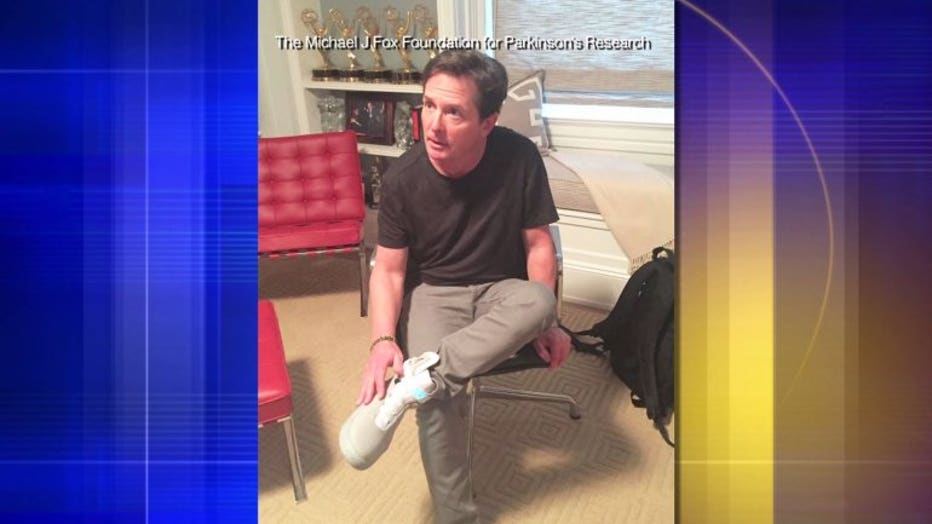 "We actually had it here about two or three weeks ago.  We sold it for $8,000," Jones said.

He said only a few pairs were made, and Jones said an even harder-to-find variant can fetch $70,000.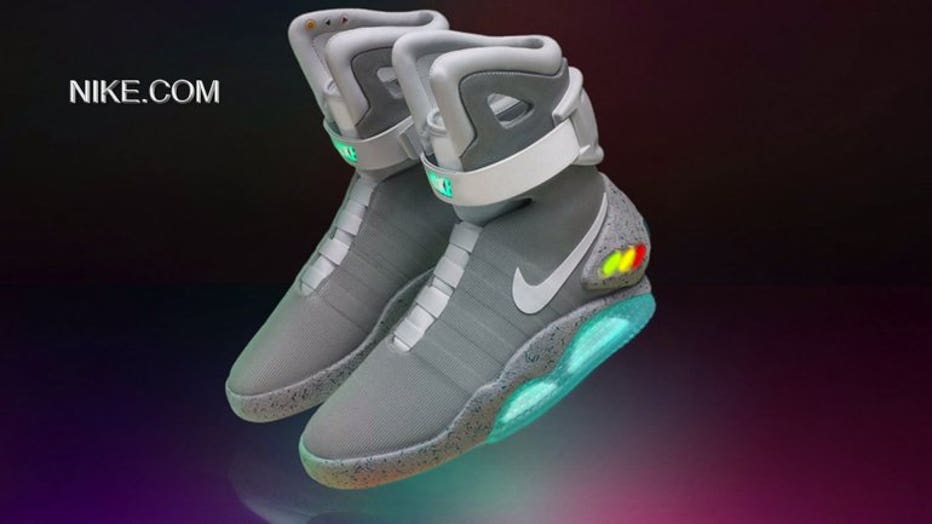 That's enough to knock your socks off -- right along with your shoes.

Related social media links: