'What is their plan?' Gov. Evers meets with legislative leaders on eve of 'Safer at Home' hearing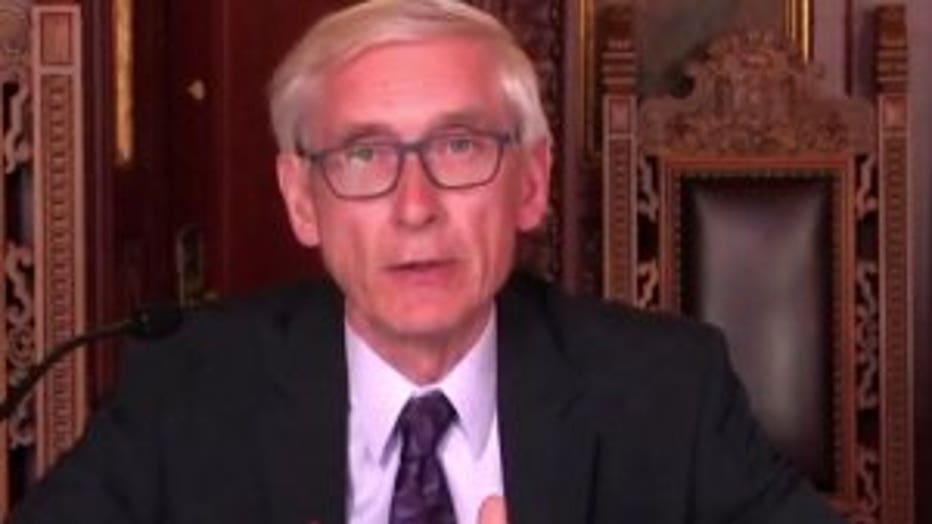 MADISON — Gov. Tony Evers met with legislative leaders on Monday, May 4 to discuss the next steps in Wisconsin's response to the coronavirus pandemic, in a rare gathering of top Republicans and Democrats as pressure builds to more rapidly reopen the state's economy.

The late afternoon meeting came the day before the Wisconsin Supreme Court was scheduled to hear oral arguments in a case brought by the Republican legislative leaders seeking to block the state's "Safer at Home" order slated to run until May 26, and, at first, give the Wisconsin Department of Health Services six days to come up with a new rule, which would allow legislative oversight.

State statutes say DHS has the ability to close schools and ban public gatherings in schools, churches and other places to control epidemics, and can use all emergency measures necessary to do so. The state's highest court will hear arguments as to whether the extension is legal.

"So whatever decision they make will be binding, which is why we said before why this lawsuit is so reckless and dangerous because there is no recourse from whatever decision the court makes," said Ryan Nilsestuen, Governor Evers' chief legal counsel. "If there is an adverse decision, we're going to do whatever is necessary to make sure that the public is protected, and we do everything we can in order to mitigate the harms of this disease."




Evers and Republicans have said they want to work together on the state's virus response plan, but Republicans have been increasingly critical of Evers' approach to the COVID-19 crisis. Republicans, along with the state chamber of commerce, have been pushing for a more rapid reopening of the state, including possibly easing restrictions more rapidly in areas not as affected by the virus.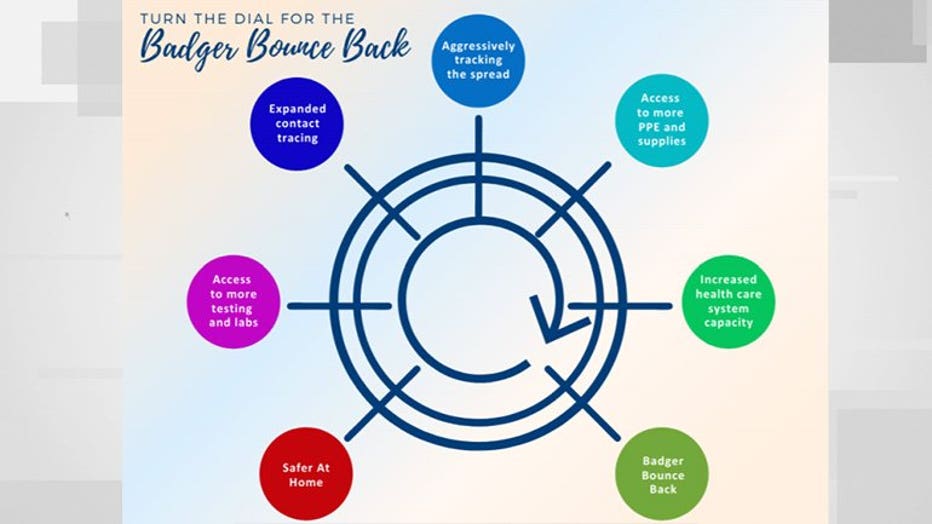 Evers last week criticized Republicans for not coming forward with their own plan, but Evers said Monday's virtual meeting was not about the Supreme Court case.

"The meeting was set up today because they sent us a letter," said Governor Evers. "We thought, 'Okay, let's meet.' It doesn't have anything to do with the court case, or getting in front of the court case. It's just seeing if Republicans have a plan, and if so, is there areas of common ground? The question to be answered is what is their plan? We are working on a plan. It's called Badger Bounce Back, and apparently, they didn't like it -- took us to the Supreme Court."

Assembly Speaker Robin Vos released the below statement after Monday's meeting:

"It was a good initial discussion. We talked about issues important to our constituents and brought up the possibility of a regional approach to safely reopening the state. There are states such as Michigan, Iowa, Indiana and Pennsylvania that have regional plans to reopen. It's a safe and reasonable approach that I hope we can begin working on developing.

"What's needed for Wisconsin right now is a bipartisan reopening strategy that is safe, gradual and regional. We shouldn't have a Republican plan or a governor's plan, we need a Wisconsin plan that the entire state can get behind.

"We're thankful Governor Evers said he's willing to have a discussion about further opening retail businesses. I look forward to meeting again soon to continue the dialogue on safely reopening the state."

On Friday, Assembly Republican leaders sent Evers a letter asking for a two-hour meeting.

"We would like to discuss a targeted and regional way to safely reopen businesses; it doesn't make sense to treat Superior the same as Milwaukee," they wrote. "As you know, there are areas of the state that have been less impacted by the coronavirus, yet restrictions have mostly been similar."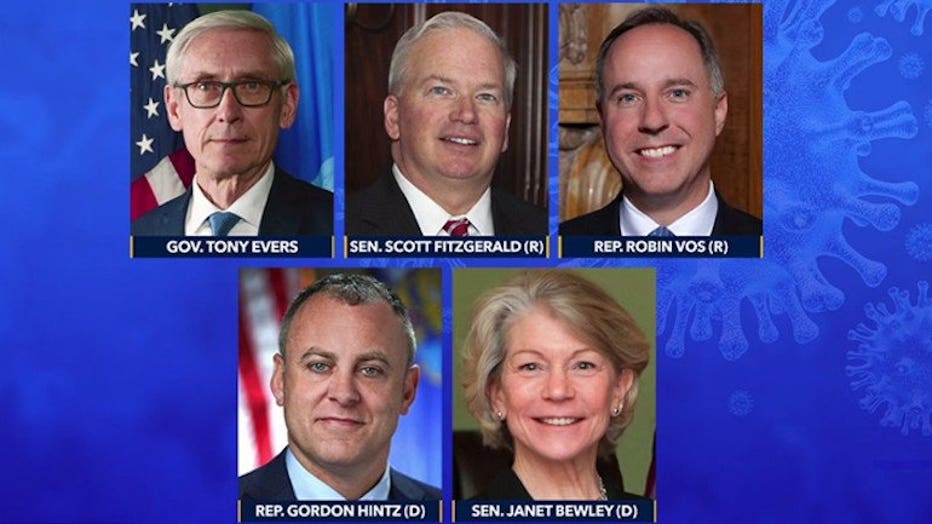 The Wisconsin Legislature's top two Republicans and top two Democrats joined the meeting.

"We have a tourism industry that is very, very strong, and we could be seeing people coming up from other parts of the state," said Senate Minority Leader Janet Bewley. "To assume that we are a discreet region that will not be influenced by outside areas is, I think, a little too simplistic."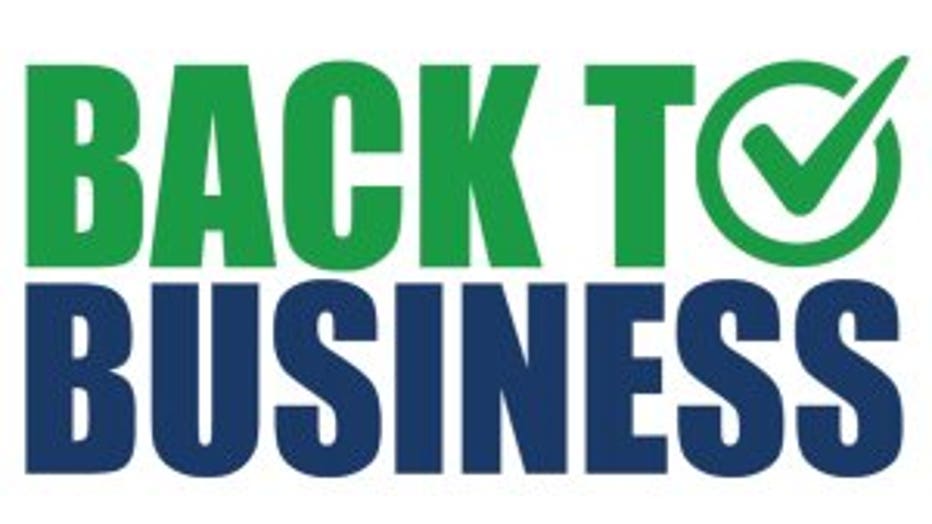 Wisconsin Manufacturers & Commerce (WMC) -- the combined state chamber, manufacturers' association and safety council -- unveiled its "Back to Business" plan on April 24 -- calling for the state to get back to business by Monday, May 4.

"The economic impact of shutting down our economy and keeping it shut down has been absolutely devastating," said Scott Manley, executive vice president of the WMC.

That call was echoed during the first weekend of May, with more protests in Brookfield and Burlington.

Evers has loosened numerous restrictions in recent days. The governor's plan for a phased reopening Wisconsin, mirroring federal guidelines, relies on expanded testing; more contact tracing; increased personal protective equipment and a steady decline in cases.

Evers announced on Monday that every resident and worker in all 373 Wisconsin nursing homes will receive a free coronavirus test as part of a plan to expand testing to everyone who needs one — as many as 85,000 people a week. Evers said state health officials started contacting nursing homes on Monday to coordinate supplies before testing more than 10,000 residents and staff each week in May.

Nursing homes nationwide have been hot spots for outbreaks of COVID-19. As of Wednesday, April 29, there were 93 public health investigations in long-term care facilities in Wisconsin, and 25 facilities had more than five confirmed cases, the state health department said.

Other steps Evers announced to expand testing include using the National Guard and local health agencies to test workers and families associated with outbreaks at businesses; increasing from 10 to 25 the number of National Guard units to help set up testing sites to respond to outbreaks; and increasing free drive-thru testing sites at communities statewide.

As of Monday, more than 8,200 people tested positive for COVID-19 in Wisconsin and 340 people died, according to the state Department of Health Services. The actual number of infections is thought to be far higher, though, because many people have not been tested and studies suggest that people can be infected without feeling sick.

Evers' reopening plan calls for a loosening of restrictions after a 14-day downward trend in positive cases as a percentage of total tests. There has been no clear trend over the past seven days. Positive cases were 9.9% of all tests on Monday, which was down from 11.1% the day before.

For most people, the coronavirus causes mild or moderate symptoms, such as fever and cough that clear up in two to three weeks. For some, especially older adults and people with existing health problems, it can cause more severe illness, including pneumonia.

Also on Monday, two residents of Waukesha County, a Republican stronghold, filed a new lawsuit asking the state Supreme Court to block Evers' order. They argue the order's travel restrictions, nine-person limit on religious gatherings and ban on public or private gatherings infringe on religious freedom and political speech.