Salvation Army Christmas Family Feast: Largest meal in the country served right here in Milwaukee!


MILWAUKEE (WITI) -- The largest Christmas meal in the entire country is served in Milwaukee, Wisconsin! The Salvation Army Christmas Family Feast fed more than 8,000 people on Thursday, December 25th.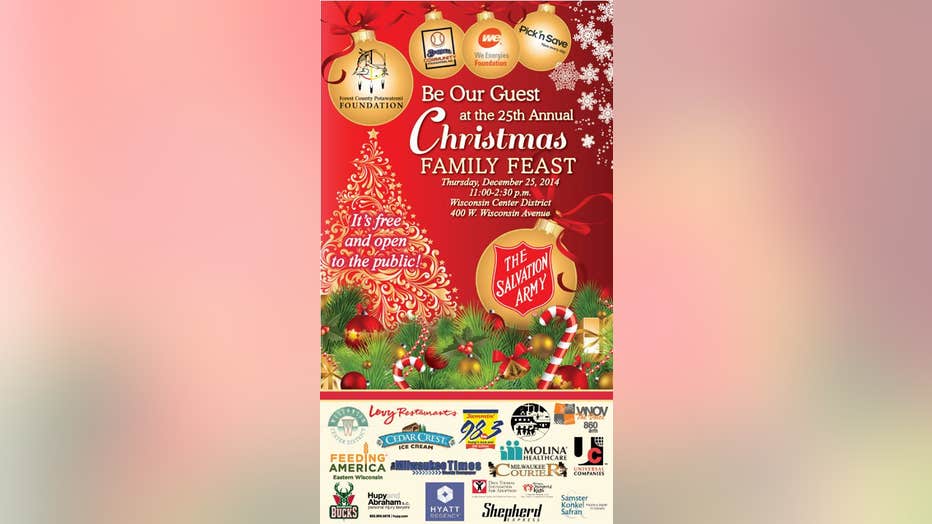 Salvation Army Christmas Family Feast


Christmas carols filled the air as hungry souls waited in line for a hot meal -- some who can't afford their own meal, and others simply looking for some comfort on Christmas.

"It feels good to just get out and be with other people," Aleshia Gray said.

The holidays are tough for Gray. She lost her daughter around Thanksgiving last year.

"She passed away just out of the blue. I think about that a lot," Gray said.

Gray was still hurting from that loss when she suffered another.

"I lost my job in October. Wasn`t able to get my son anything for Christmas but I`m going to be okay. We are going to be okay," Gray said.

Surrounded by strangers and her two sons at the Wisconsin Center, Gray said she feels love and joy around her this Christmas.

"It`s a good warm feeling inside," Gray said.

The very large Christmas Family Feast wouldn't be possible without the hundreds of volunteers who spent three days cooking and preparing for the big day.

Jeri Williams has been volunteering for this event for 14 years. She got involved after she went through a divorce, and she says it has been rewarding.

"This is something where I felt like I could give back to people at Christmas time. It`s more heartfelt to do this," Williams said.

The act of giving back to those who need it most is what this holiday tradition is all about.

"No matter what, we have each other and we have love," Gray said.

The Christmas Family Feast is in its 25th year. It is made possible through the generous donations to the Salvation Army and the many organizations and companies that donated food to the cause.

Meanwhile, the Salvation Army's Red Kettle Campaign continues through January 31st, 2015.

CLICK HERE to make a donation online.

CLICK HERE to learn more about volunteering with the Salvation Army.