"Quick, easy and it doesn't hurt:" Free testing available in Milwaukee on HIV Testing Day


MILWAUKEE -- Of the more than 1.2 million people living in the U.S. with HIV, one in seven don't know they're infected, according to the CDC. Milwaukee Health Services hopes to change that with free testing.

There were 226 new cases of HIV infection diagnosed in Wisconsin in 2014, according to the Wisconsin AIDS/HIV Program

"A lot of people are scared to come in and get tested because they don`t want to find out what they have, most people would rather just not know," said Gabrielle Ruiz, woman getting tested for HIV.

Ruiz came with her husband to the free National HIV Testing Day Event.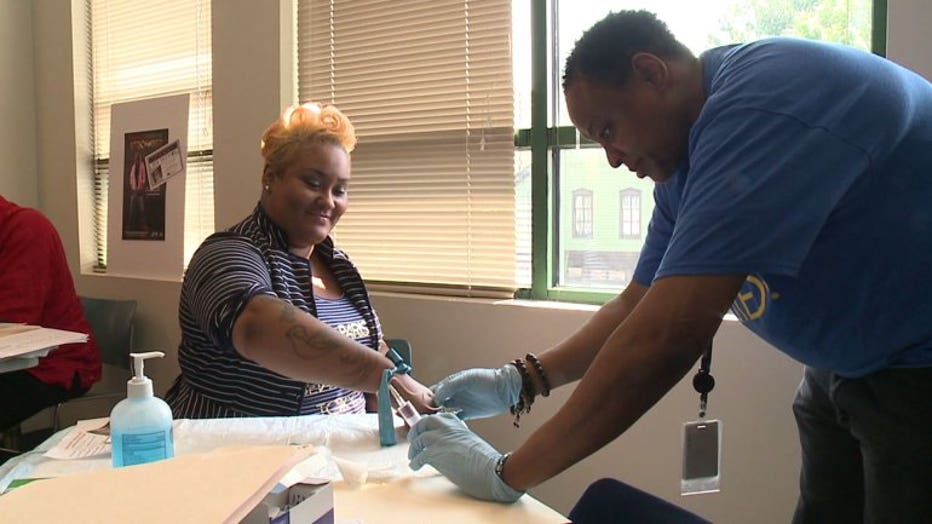 "I think its always a good thing even if you`re married, any relationship to be tested," Ruiz said.

She and hundreds of others got screened not only for HIV, but also hepatitis C., gonorrhea, chlamydia and syphilis.

"We try to make it an overall health panel as opposed a specific disease or condition," said Ericka Sinclar, the Program Director of the Early Intervention Program at Milwaukee Health Services, Inc.

That helps take away some of the stigma associated with STD's. The test is a quick finger prick, and you get your results the same day. If you're positive, Milwaukee Health Services staff will walk you through a treatment plan, and provide counseling.

"Everything is treatable except for HIV and even with that, people are living longer and stronger with HIV these days because of the medications we give them," said Sinclar.

Going through the whole process takes about 30 to 40 minutes. If you can't make it to the event, don't worry, you can always come to Milwaukee Health Services and they will do the test for you, for free.

"The earlier they know the earlier we can get it taken care of, and get them into care," said Sinclar.

The mission of MHSI is to provide accessible, quality, primary and related health care services to Milwaukee residents, with the continuing emphasis on medically-underserved families and individuals.  MHSI operates the Martin Luther King, Jr. Heritage Health Center at 2555 N. Dr. Martin Luther King Drive and Isaac Coggs Heritage Health Center at 8200 W. Silver Spring Drive.