Milwaukee bakers work nearly 'round the clock to be ready for Paczki Day


MILWAUKEE (WITI) -- It's a sweet jelly-filled donut that brings people back year after year for Paczki Day -- and a ton of work goes into preparing for this day.

The bakers at National Bakery worked 20 hours on Sunday and they're back at it on Monday with just a few hours of rest.

"They're going to work straight through tomorrow another 20-hour shift until everything is done. Then they finally get to relax a little bit," said National Bakery General Manager Dawn Pethke.

The bakers plan to make nearly 50,000 Paczki between the three stores. Paczki Day is busier than all other holidays combined for National Bakery, that's why some showed up a day early.

"I'm off today so I thought I would spare myself the crowd," said National Bakery shopper Karen Manske.

"They're the same ones so they taste good tomorrow too," said National Bakery shopper Nancy Piastowski.

Everybody seems to have their favorite whether it's raspberry, prune, or raisin, but only the butter dough is offered this time of year.

"Butter dough we only carry it once a year. It is a rich, buttery dough, a little crispy, it's so good," said Pethke.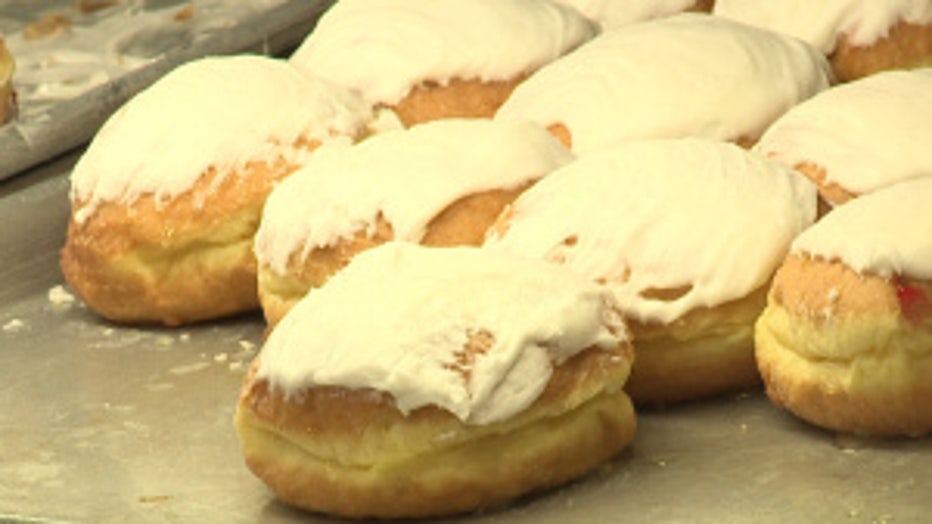 Paczki Day is a Polish, Catholic tradition on Fat Tuesday, which started as a way for people to satisfy their sweet tooth before the first day of Lent.

"You get rid of all the sweets, the sugar, and the lard, and the butter, and they made little buns, and that's a Paczki," said Pethke.

Crowds start lining up outside of National Bakery before dawn on Fat Tuesday as the doors open at 6 am, which is a half an hour earlier than usual. You have to act fast as it's first come, first serve. For more information on National Bakery, CLICK HERE.