Gov. Evers waives work search, modifies unemployment availability due to COVID-19


MADISON — Governor Tony Evers on Wednesday, March 18 issued Emergency Order #7 waiving work search requirements and modifying the availability requirements for unemployment insurance benefits for workers impacted by COVID-19.

A news release from Gov. Evers' office said Emergency Order #7 waives the requirement that UI claimants conduct at least four weekly work search actions during the COVID-19 emergency, retroactively effective as of March 12. This order also ensures that claimants who are otherwise eligible but out of work due to COVID-19 are considered available for work and therefore eligible for benefits.

The order goes into effect immediately and will remain in effect for the duration of the COVID-19 public health emergency.

"This emergency order follows the federal guidance related to administering unemployment insurance benefit claims during the pandemic period and allows the program to support our workers who have been affected," said Gov. Evers in the release. "Many Wisconsin workers are facing financial burden and stress due to the COVID-19 outbreak and this order will help them access some additional support. My Administration plans to continue to work with state legislators and our federal partners on initiatives to help impacted workers."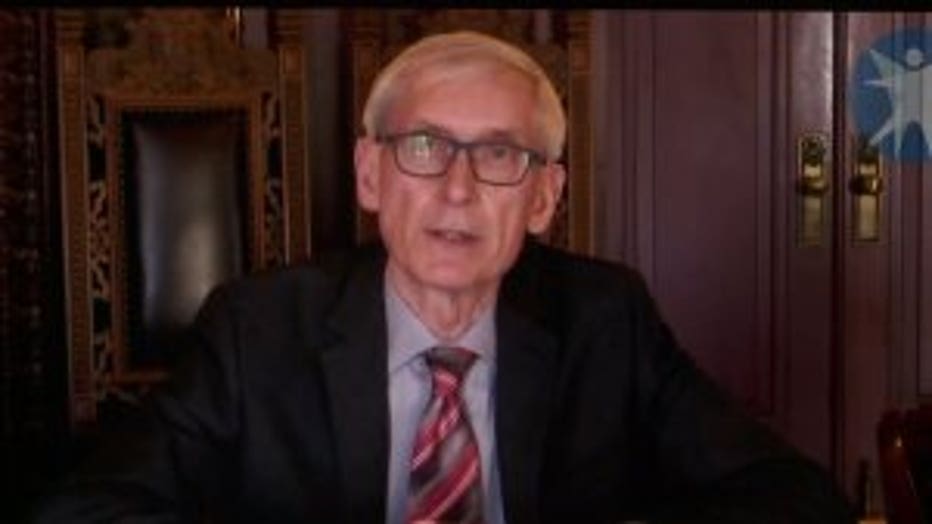 The release added that on March 12, 2020, the governor signed Executive Order #72, directing DHS to take all necessary and appropriate measures to prevent and respond to incidences of COVID-19 -- allowing DHS to purchase, store, or distribute appropriate medications, regardless of insurance or other health coverage, as needed to respond to the emergency. It also authorized state funds to support local health departments with costs related to isolation and quarantine, as well as the use of the Wisconsin National Guard.

Decisions about the implementation of other community measures will be made by state and local officials based on CDC and DHS guidance, as well as the scope of the outbreak, the release said.

Help for small business owners

Earlier Wednesday, Evers submitted a request to the U.S. Small Business Administration for disaster loans of up to $2 million for each qualifying small business and private nonprofit organization that has been hit hard by the pandemic. The Wisconsin Economic Development Corporation board on Tuesday approved $5 million to pay for grants of up to $20,000 for businesses with fewer than 20 employees to cover rent and payroll expenses related to COVID-19.

Meanwhile, Democratic and Republican members of Wisconsin's congressional delegation joined together to ask for more surgical masks, respirators and other equipment as they said hospitals awaiting a rush of patients were "critically low" on needed supplies.

Only Reps. Glenn Grothman and Jim Sensenbrenner, both Republicans, did not sign it. They did not immediately respond to messages asking why.

New limitations on child care facilities/COVID-19 likely statewide

New limitations were also placed on Wisconsin child care facilities Wednesday -- as the number of confirmed COVID-19 cases in the state topped 100, and policymakers scrambled to find emergency help for displaced workers and struggling businesses.

Evers said that although an order to shelter in place was an option, "I don't believe we're going to get to that point."

It's likely that the coronavirus is now circulating statewide, even though the 106 confirmed cases were found in only 14 of Wisconsin's 72 counties, said Julie Willems Van Dijk, deputy secretary of the state Department of Health and Human Services on Wednesday. She, Evers and other members of his Cabinet spoke on a call organized by Wisconsin Manufacturers and Commerce that organizers said drew 2,000 participants.

The state total did not include one positive case reported in Ozaukee County Wednesday, and one positive case reported in Walworth County on Wednesday. There was community spread — where officials can't trace how or where a person caught the disease — in Milwaukee, Dane, and Kenosha counties. Community spread is one factor that is expected to continue to drive the numbers even higher.

Evers said child care settings must have no more than 10 staffers and 50 children present at the same time. Providers were asked to prioritize families of health care and essential service workers. The restrictions were set to take effect on Thursday at 8 a.m., remaining in place indefinitely.

On Tuesday, Evers ordered a statewide ban on all gatherings of more than 10 people and closed all bars and restaurants except for delivery and pickup orders. Some bars ignored the order, while others were laying off employees in anticipation of the massive drop in business.