City, state leaders react to death of Vel Phillips; 'Relentless fighter for civil rights'


MILWAUKEE -- Civil rights leader Vel Phillips has a massive impact on the City of Milwaukee as well as the state. Below are statements from persons and groups on the passing of Phillips on Tuesday. Vel Phillips was 94 years old.

Milwaukee Mayor Tom Barrett




Gov. Scott Walker

"Tonette and I send our prayers to the family and friends of the Honorable Vel Phillips. She was a legend in Milwaukee and in Wisconsin - not only for her many firsts but for her passion. It was an honor to get to know her when I was the County Executive and to be a part of naming the Vel R. Phillips Juvenile Justice Center in her honor nearly a decade ago."

Common Council President Ashanti Hamilton

"It is said that nothing good comes easy, that only through sacrifice and hard work do we achieve something positive, something special. Vel Phillips knew that and embraced it. And I believe Ms. Phillips showed us all that change can be achieved through quiet persistence and unwavering integrity."

"Ms. Phillips was a trailblazer not just in the City of Milwaukee but also the State of Wisconsin and nationally. She is featured at the State of Wisconsin Historical Society Museum in Madison, and as we marked the 50 year anniversary of the Fair Housing Act we remembered her vigilance and her courage in fighting for the Milwaukee ordinance that would champion fair and open housing for ALL Milwaukeeans."

"In 1962, she introduced an open housing ordinance but her vote was the only one in support of it. She introduced the ordinance three more times during the next five years but the result was always the same – a single vote from Ms. Phillips."

"But on April 30, 1968 – a few weeks after President Lyndon Johnson signed the federal Fair Housing Act -- the Milwaukee Common Council passed its own fair housing ordinance that was more comprehensive than the federal act. Victory had arrived for the people, all because of Ms. Phillips' dogged determination, skill and courage."

"Ms. Phillips would go on to serve as the first female judge in Milwaukee County and the first African American judge in Wisconsin."

"In 1978, she once again made history when she became the first African American to be elected as secretary of state."

"Her trailblazing and role-modeling as a public servant has inspired many African Americans to fight for change in the civic arena and to seek careers in public service. I have been inspired by her, moved by her and I will work to ensure that her legacy lives on forever."

"I send my sincere condolences to the family and friends of a true hero, The Honorable Vel Phillips."

Alderwoman Milele Coggs

"Just yesterday my colleagues and I passed the Vel R. Phillips Trailblazer Award and Selection Committee as a tribute to the special woman who has given so much to the City Of Milwaukee and its residents. I pushed to create the Trailblazer Award now because I believe in giving people their flowers (although Ms. Phillips preferred plants) while they are living. It was cruel irony to get the notice last evening of her passing but I am glad we had the chance to honor this trailblazing woman and hopefully the award will become just one of many small ways of keeping her legacy alive.

"I have had the pleasure of knowing Ms. Phillips my entire life and she has always been an inspiring role model. I will forever reflect on the stories of challenge and triumph that she shared, and in fact there is no better time than now to stand with the same fearlessness and zeal like she did through the years to change society. Her tireless and groundbreaking efforts in fair housing will continue to be a beacon of light as we navigate through the (too often dark) political landscape of today.

"Out of the many conversations we had, there is one that I regret we never finished...it was about her desire to have a street permanently named in her honor. I am committing myself to working diligently with my colleagues to make her request a reality. Another small tribute to a woman on whose shoulders many of us now stand.

"I will eternally miss her welcoming face at community meetings, her quick retort to smart or snarky comments, her strategic mind and the stories of past struggles laced with the chronology of our people and this community. I am proud to now call her an ancestor and to have had the honor and pleasure of knowing her. Vel Phillips truly was one of the most impactful people I have ever known and she will be sorely missed."

Alderman Khalif Rainey




"My condolences go out to the family of Vel Phillips, a woman who transcended the challenges she faced, paving the way for many African-Americans, including myself, to be elected into office.




"Vel Phillips was an inspiration. I had the good fortune of meeting Ms. Phillips while serving on the Milwaukee Community Brainstorming Executive Board. Like countless others, for the time I knew her I learned from her. Like countless others, I was inspired by her actions going back to my earliest childhood.




"Vel Phillips was a titan in the community. From law school to being elected into statewide office, virtually every chapter in her life involved being the first woman, the first person of color, or in some instances both, to occupy those institutions.




"Vel Phillips was the most powerful African-American that Wisconsin has ever seen. One can only be inspired when looking at photographs of her standing alongside Father Groppi or John F. Kennedy. Let us use that inspiration as we continue to make change while honoring her legacy."




Alderman Cavalier Johnson

"This week, when some Wisconsinites talk about historic snowfall not seen in generations, I say we reflect on the life of a woman that in its own right was a force of nature.

"Wisconsin has lost a champion with the passing of Vel Phillips. She made history with many "firsts" as a person of color and as a woman. She was the first woman judge in Milwaukee County – and first African-American judge in Wisconsin – and would become the first African-American elected into statewide office.

"Her work not only inspired generations of African-Americans to believe they too can succeed, but also opened doors that still affect our everyday lives. In my case, I graduated from UW-Madison the same institution where Vel went to law school, the first African-American woman to graduate from there. And a reason my family and I live north of Capitol Drive is because of the work that Vel did fighting for fair housing alongside Father Groppi those many years ago.

"I had known Vel for years, and she and I served on the Milwaukee Community Brainstorming Executive Board together. When I ran for Common Council, Vel Phillips' endorsement landed on the front page of the Milwaukee Community Journal, certifying me a serious candidate. Today, I have the pleasure of writing this in the very office that Vel Phillips christened as Milwaukee's first African-American Alderperson.

"For African-American elected leaders in Wisconsin, Vel Phillips continues to be that North Star as she remains the only African-American elected statewide in Wisconsin's history. This community and this state will never forget the impact that Vel Phillips has made here."

Alderman Jim Bohl

"I have fond memories of interactions over the years with Ms. Vel Phillips, and with her passing my condolences go out to her loved ones and friends.

"Ms. Phillips possessed the determination and will to never budge from her goals and her principles, and she arrived on Milwaukee's political and civic scene at the right moment in history. She was a true pioneer and Milwaukeeans will always owe her a debt of gratitude for her work on the Fair Housing Ordinance and on many other issues.

"Her example of active and forthright public service – as well as her legacy of achievement – will live on for generations."

State Rep. Leon Young (D-Milwaukee)

"I was shaken by the news that former Secretary of State of Wisconsin, Vel Phillips had passed away Tuesday. In growing up, she was always looked upon by me as an amazing human being. She was a compassionate and great community leader who stood up relentlessly for equality and human rights.  I mourn her passing in a deep and moving fashion. Vel was a unwavering voice for justice. I will never forget her tremendous contributions in the area of fair housing and civil rights advocacy."

State Rep. David Bowen (D-Milwaukee)

"The Honorable Vel Phillips was a giant in the struggle for justice and coined as Wisconsin's First Lady to serve in many elected roles. A pioneer for both women and Black people in Wisconsin, she paved the way for countless others who have followed in her footsteps pushing Milwaukee and Wisconsin forward, ensuring that both lived up to equality and equity for all. Her legacy lives on in those who continue the work she did, tirelessly fighting for civil rights and equality.

"My deepest condolences to her family and those who know and love her. May she rest in peace."

State Rep. David Crowley (D-Milwaukee)

"I am deeply saddened to learn of the passing of great Milwaukeean Vel Phillips. Ms. Phillips was truly a pioneer in all aspects of her life: the first African American woman to graduate from the University of Wisconsin Law School, the first woman and African American elected to the Milwaukee Common Council, the first African American judge in Wisconsin, and the first and only African American to win a state wide race in the State of Wisconsin.

"Not only was she a dedicated and trailblazing public servant, she also spent her career as a tireless advocate for civil rights. She was instrumental in passing an open housing ordinance in Milwaukee, and would regularly lead marches in the streets of Milwaukee.

"The city of Milwaukee has lost one of its truly great citizens, but her accomplishments will never be forgotten. Without Ms. Phillips, I would not be where I am today. Although we will carry on the work she began many decades ago, her presence will be sorely missed."

One Wisconsin Now Executive Director Scot Ross

"Our hearts are saddened by the passing of Vel Phillips. Her tireless leadership in pursuit of a Wisconsin with equal opportunity for all is a humbling testament to the difference that one person can make in the lives of so many. Her many fights continue today, none more important than protecting the right to vote from the forces who would seek to disenfranchise legal voters based on the color of their skin."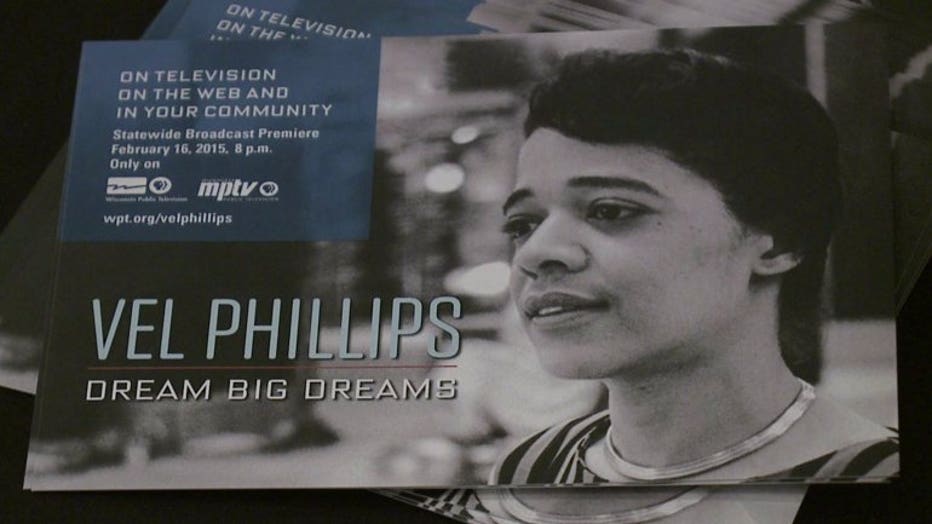 Milwaukee County District Attorney John Chisholm




State Superintendent of Public Instruction Tony Evers




State Sen. Jennifer Shilling (D-La Crosse)

"It is with a heavy heart that I learned of the passing of Vel Phillips. My father worked for Vel when she served as Secretary of State, and I met her several times as a young girl. At the time, I had no idea how much of an icon and giant she was in terms of her accomplishments. It was an honor to re-connect with her a few years ago and relive the stories of the past and pay homage to a trailblazing woman who inspired many.

"Vel was a woman of many firsts and broke through many gender and racial barriers. She was the first African American woman to graduate from the University of Wisconsin Law School, the first to win a seat on the Milwaukee City Council, the first to become a judge, and the first to become the Secretary of State in Wisconsin.

"She was a true pioneer and leader during the civil rights movement and fought to improve social and economic justice for underrepresented communities. Vel cared deeply about the Milwaukee community and her steadfast dedication to improving opportunities for families remained throughout her retirement. My deepest condolences to her family as Wisconsin celebrates the life of a remarkable woman."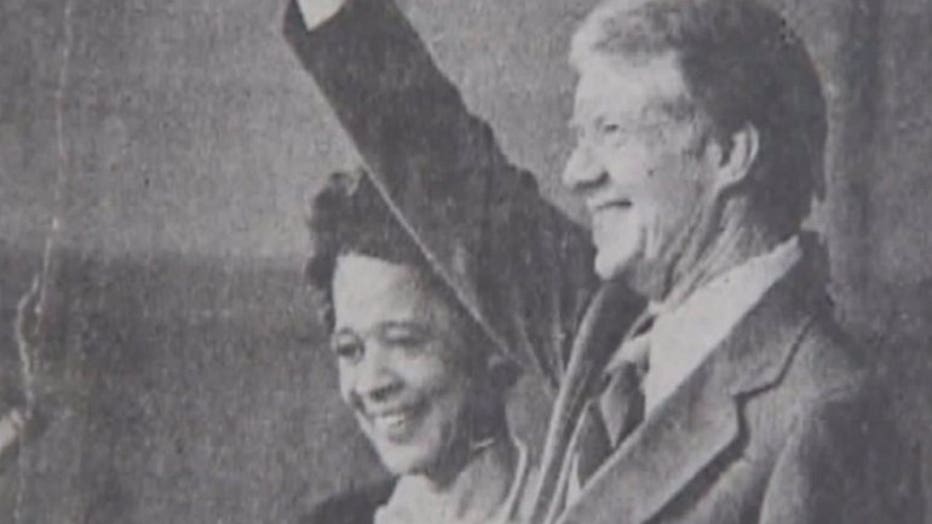 Vel Phillips with President Jimmy Carter