Catherine, Duchess of Cambridge, gives birth to a boy


LONDON (CNN) -- It's a boy! Catherine, Duchess of Cambridge, and husband Prince William on Monday welcomed their first child.

The baby boy was born at 4:24 p.m., weighing 8 pounds, 6 ounces. A name has not yet been announced for the child, who is now third in line to the throne.

"Her Royal Highness and her child are both doing well," read an official announcement that was placed outside Buckingham Palace.

They are expected to remain in hospital overnight. Prince William, Duke of Cambridge, was present for the birth.

"It is an important moment in the life of our nation, but I suppose above all it's a wonderful moment for a warm and loving couple who got a brand new baby boy," said British Prime Minister David Cameron.

The Duke and Duchess of Cambridge spent some time with their new baby before calling family members -- starting with Queen Elizabeth II -- to announce the birth, a Kensington Palace source told CNN royal correspondent Max Foster.

Prince William remained at Catherine's side throughout the labor and the baby was born vaginally, not via a C-section, the source said.

"Both my wife and I are overjoyed at the arrival of my first grandchild. It is an incredibly special moment for William and Catherine, and we are so thrilled for them on the birth of their baby boy," Prince Charles and wife Camilla said in a statement.

Earlier in the day, the duchess and her husband traveled by car from Kensington Palace to the Lindo Wing at St. Mary's Hospital.

The hospital, next to Paddington Station in London, is where William and his brother Prince Harry were born.

The duchess' mother, Carole Middleton, was expected to be on hand at the hospital.

The baby's name may be announced when the family leaves the hospital, CNN's Foster reported. Prince William's name was announced a few days after birth, his brother Harry's on departure from hospital.

Some British parents have delayed naming their newborns in recent days in hopes of either copying or avoiding the royal name, he said.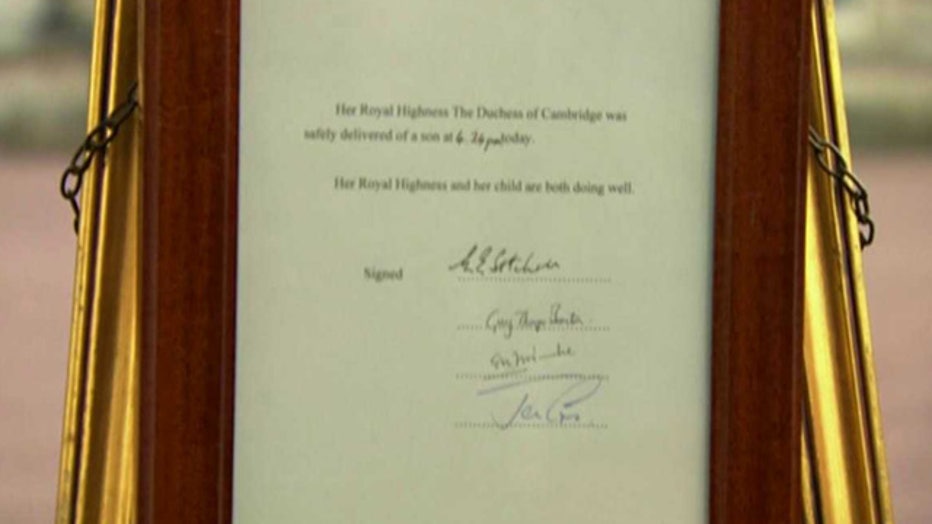 British bookmakers favor the names Alexandra, Charlotte, Elizabeth, Victoria, Grace, James and George. The field is open for both boys' and girls' names because royal sources said the parents did not want to know their child's sex in advance.

The child's title will be His Royal Highness Prince or Princess (the baby's name) of Cambridge, St. James's Palace said this month.

The queen returned to Buckingham Palace on Monday from Windsor Castle, another of her official residences. Crowds have been gathering outside the palace gates.

The baby will be third in line for the throne now occupied by the queen. Her son, Charles, will succeed her, followed by his son, William.

Thanks to a change agreed by the leaders of the Commonwealth countries in 2011 and passed into law this year, the baby's place in the order of succession will be the same regardless of sex.

Previously, boys automatically trumped female siblings. So a first-born daughter could be pushed out of line by a younger brother.

The British monarch is also head of state in 15 Commonwealth countries, including Australia, Canada, New Zealand, Belize and Jamaica.

The royal birth is expected to be good for business. The UK-based Centre for Retail Research estimates retailers will sell $121 million worth of royal-related baby toys and souvenirs. Merchandise ranges from diaper covers and clothing to a "prince potty chair," which of course is in the shape of a throne.

On Twitter, at least seven topics related to the royal baby jumped to the top of the trending list in the United Kingdom Monday morning. And "Kate Middleton" was trending in the United States.

Many tweets were along the lines of the comment of Holly Thrift, who wrote, "The royal baby is coming! I am freaking out!"

The baby was the only topic on the radio talk show hosted by Vanessa Feltz on BBC London 94.9 on Monday morning.

But not everyone was thrilled. Feltz read on air a message from "Gary" asking, "Please, please please, I implore you not to devote too much of the morning's show to the royal baby."

Feltz replied, "C'mon, Gary, give an inch. .... It's huge, we can't ignore it."

She reported Gary sent another message: "OK, point taken. I'm a beaten man."