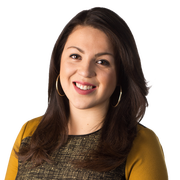 Angélica Sanchez
Reporter
Since Joining the FOX6 newsroom in September 2016, I have traveled across the state chasing some of the biggest stories.
I covered the Jayme Closs kidnapping and her remarkable escape that made national headlines. I also reported on-air for hours while covering both the Miller Brewery Shooting and Mayfair Mall shooting.
In 2020, I reported on various elements of the COVID-19 pandemic. I also covered various protests and civil unrest in the cities of Milwaukee and Kenosha. I also led our coverage of the Kyle Rittenhouse homicide trial.
In 2019, I was honored with the Trailblazer in Media Award by the League of United Latin American Citizens. LULAC is the largest and oldest Hispanic and Latino civil rights organization in the United States.
During my time at FOX6, I helped launch a station initiative to celebrate and honor Hispanic Heritage Month. The series runs every year from September 15th to October 15th. I was inspired by Milwaukee's growing and diverse population to highlight Latinos in the community making an impact. Those we feature range in profession and background. Our series has been nominated by NATAS (National Academy of Television Arts and Sciences) and was recognized by the Milwaukee Press Club in 2022.
Shortly after joining FOX6, I was selected to take over the station's award-winning series, Wisconsin's Most Wanted. The series works with the U.S. Marshals and area law enforcement to profile fugitives hiding out in Southeast Wisconsin. The segment has assisted in the apprehension of hundreds of fugitives wanted for violent crimes.
My television career began in East Central Illinois where I reported for FOX Champaign News WCCU/WICD. I was also an evening anchor and fill-in producer. This newsroom will always hold a special place in my heart, as it established life-long friendships.
I was born in Chicago, Illinois and raised in the suburbs of Berwyn and Cicero. I'm first generation Mexican-American, fluent in Spanish. I graduated with an Associates' Degree in Arts from Morton College in Cicero. I then went on to Columbia College Chicago to complete my Bachelors' degree in Journalism.
When I'm not reporting, I'm spending time with my husband, Clayton. He is the love of my life and my best-friend. We love our date nights as well as spending time with our, familias. We are expecting our first child in the fall 2022.
I can honestly say I truly love what I do, and I'm grateful to be a reporter in this community. If you have story ideas, don't hesitate to send an email my way!
The latest from Angélica Sanchez