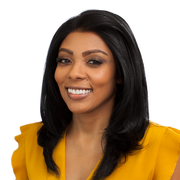 Gabrielle Mays
Anchor, Reporter
I'm honored to be among the extremely talented journalists at FOX6. Milwaukee is a beautiful city and it feels like home.
I started my career in Michigan's Upper Peninsula (U.P.) as a Houghton bureau reporter for TV6. A year later, I was promoted to weekend anchor. From watching Michigan Tech students create beautiful snow statues to the area's rich mining history, I thoroughly enjoyed my time in the U.P. It's where I learned how to report, shoot and edit my own stories.
I loved finding craft breweries and eating a pasty with a side of ketchup. The U.P. is also where I learned how to drive and live in snow.
Can you believe this Southern California girl survived three U.P. winters? I'm still not a huge fan of snow and cold but the Midwest has taught me not to take summer for granted.
After a couple of years in the U.P., I spent six years as a weekend anchor and reporter at FOX 11 in Green Bay. One story I always looked forward to was in Marinette watching littoral combat ships slide into the Menominee River.
I covered the many presidential candidates who passed through Titletown. Speaking of Titletown, my reporting took me inside Lambeau Field many times and even convinced me to be a Packers fan. Green Bay is also where I met the love of my life who was born and raised in Wisconsin.
When I'm not working, I'm always looking for a new show to binge. I also love spending time with my husband, occasional game nights (you will lose to me at Uno) and watching old episodes of "The X-Files." The truth is out there.
If you happen to see me around town, feel free to say hello. I'll always make time to chat.
The latest from Gabrielle Mays