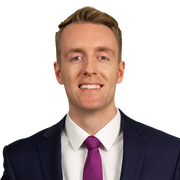 Eric Manges
Meteorologist
I joined the FOX6 Weather team in September 2019. I'm so excited to be back in the Midwest and closer to home. I grew up in Rochester, Minnesota and went to school at Iowa State. Yes, let's get this out of the way. I am a Vikings fan. But I am in general just a huge sports guy — and more than anything respect all teams -- just some more than others.
I previously worked in Des Moines, Iowa and most recently in Tyler, Texas where I've seen all kinds of weather firsthand from hurricanes to tornadoes. I nerd out in any severe weather circumstance. But there is no weather I enjoy more than upper-70s and sunny skies.
I already mentioned sports. But I follow everything from college to the pros. Football, basketball, and baseball are my bread and butter -- but I like hockey as well. Most of all I love the outdoors. Camping, hiking, snow skiing, water skiing, and in general being active is just the way I've always been. In my life, I've been to more than 25 national parks -- and hopefully, by the time I kick the bucket, I've been to them all.
I've got a cat named Coors who you'll see every once in a while on my social media and all other kinds of random posts and if you want feel free to follow! I'm so excited to be in Milwaukee!
The latest from Eric Manges