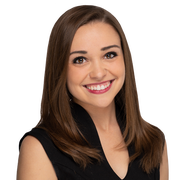 Amelia Jones joined the FOX6 News team as a reporter in October 2020. 
Previously, Amelia was the morning news reporter at NBC15 in Madison. While there, she covered historic flooding throughout south central Wisconsin, a devastating explosion in Sun Prairie and unrest at the Capitol in response to the killing of George Floyd in Minneapolis. In 2020, she received a Wisconsin Broadcasters Association award for 'Best Live On-Scene Reporting.' 
Amelia is a graduate of Marquette University and during her time there she interned at six television stations. Three in Milwaukee: FOX6, CBS58 and the Milwaukee Neighborhood News Service. Two in Minnesota: KARE-11 in Minneapolis and KTTC-TV in Rochester and PBS Wisconsin located in Madison. She was actively involved with the Marquette University Television Station (MUTV) as an anchor, reporter, and assistant executive news producer during her four years. Her work was nominated for a Collegiate Emmy and she received a Wisconsin Broadcasters Association Award for 'Best News Writing' for her coverage of the mumps outbreak at Marquette. Her senior year, she worked as an investigative reporter while interning with PBS Wisconsin on the 'Purple River Project' covering the political affiliation change in rural Wisconsin towns from Democrat to Republican in the 2016 election. This project was in partnership with the O'Brien Fellowship in Public Service Journalism at Marquette, which Amelia worked closely with as a program assistant. 
During college, Amelia was also a member of the Marquette University Cheerleading Squad, a member of Sigma Kappa and Marquette University's Lamda Pi Eta Communications Honor Society. 
Originally from Kansas City, Amelia is a Chiefs fan, but has learned to split fandom and cheers for the Green and Gold as well. Her favorite season is fall because of two words: college football. Her family is diehard Oklahoma Sooner fans. You can find Amelia riding her bike, trying out new restaurants in Milwaukee or hiking! If you'd like to give her a story idea or bike trail recommendation email her: amelia.jones@fox.com. 
 
The latest from Amelia Jones