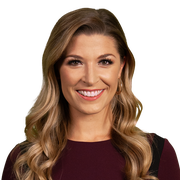 Stephanie Grady
Anchor, Reporter
Stephanie is an Emmy award-winning journalist and currently the weekday anchor of FOX6 News at 4, 6 & 9 p.m.
Philly raised with Packers pride — that may be the best way to sum up my ties to the Milwaukee area. I wasn't born in Wisconsin nor have I ever lived in the Badger State until now. But, my father grew up in Whitefish Bay and ingrained the Cheesehead mentality into me and my three younger siblings since day one.
I've been in the TV business since before I even graduated from Penn State University, but I definitely didn't start my college career thinking this is where I'd end up. I wanted to be a doctor. My dad is a doctor. Almost everyone in my family works in the medical field in some shape or form. The problem is I hate needles. Needles and spiders.
I can't do either. So on to plan B.
I grew up a competitive figure skater so I was used to performing since the age of six.
I also love to learn and have a deep sense of curiosity even a cat would envy. That helped steer me towards journalism. I enrolled in Penn State's College of Communications, joined the University's student-run television station, started my own TV show called "The U" (which is still produced to this day) and got myself some good internships including at WCAU-NBC10 in Philadelphia in the investigative unit and Entertainment Tonight/The Insider in New York City.
I got my first general assignment reporting job right out of school in Erie, PA at WSEE/WICU. I got promoted to morning anchor and after about a year took a job at WSAZ Newschannel 3 in Huntington, WV. From there, I took the morning anchor job at News10 ABC and FOX23 (WTEN/WXXA) in Albany, NY allowing me to get closer to my now husband, Joe.
We moved to Milwaukee, WI in the fall of 2014 and have loved life in the Badger State.
We now have two kiddos — Jack and Harper — and a furrier one, Rileigh (Portuguese Water Dog) . Life is good in the Midwest!
I would love to hear from you so if you have a story idea or would just like to say hi, please do! 
GO PACK GO! WE ARE, PENN STATE!
The latest from Stephanie Grady