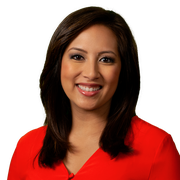 Angelica Duria
Anchor, Reporter
Angelica Duria joined the FOX6 News team in October 2010, making her trek back home to the Midwest.
Since her arrival, Angelica has held several roles and shifts on FOX6. For more than two years, she reported for FOX6 Wakeup, covering some of Wisconsin's biggest news stories — the blizzard of 2011, the Packers' road to the Superbowl, the Sikh Temple shooting, and plenty of political coverage, including the weeks-long protests in Madison, the gubernatorial recall and Presidential elections in 2012.
But it was the winter of 2013 that may have been the most memorable. Angelica was covering a snowstorm when her "It's snowing and IT SUCKS HERE" report went viral.
Since then, Angelica has made her way into the studio as part of the FOX6 Wakeup anchor team & Real Milwaukee host panel. As a self-described foodie, she started a bi-weekly cooking segment on Real Milwaukee called "Dining with Duria." You can catch her on FOX6 every weekday from 4:30-10 a.m.  She also anchors FOX6 News at 11.
Before coming to Wisconsin, Angelica worked in Northwest Arkansas for KHBS/KHOG 40/29 News.
Angelica was born in Chicago and raised in the western suburb of Elmwood Park. She graduated Cum Laude from the University of Illinois at Urbana-Champaign in 2008 with a Bachelor of Science degree in Broadcast Journalism.
As a first-generation Filipino-American, Angelica is a proud member of the Asian American Journalists Association.
Angelica loves calling Milwaukee home, but unfortunately, her sports loyalty lies in Chicago. She loves cheering on her "home" teams – da Bears, Cubs, Blackhawks, and of course, her "Fighting Illini" alma mater! Although she will admit after several years in Milwaukee, she's now a Bucks fan!
In her spare time, Angelica likes to travel with her husband and daughter, find new places to eat and shop for bargains. So much so, that she's admitted to owning over 90 pairs of shoes!
The latest from Angelica Duria