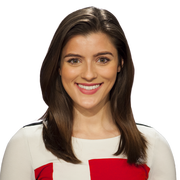 Kasey Chronis joined the FOX6 News Team in January 2018. She is excited to immerse herself in the Milwaukee community and share your stories along the way!
Prior to moving to the Badger State, Kasey spent two years covering the news in Northern Indiana and Southwest Michigan. She reported and anchored for WNDU-TV, NBC's South Bend affiliate.
Kasey earned her Bachelor's degree from Indiana University—Bloomington. Go Hoosiers! She graduated magna cum laude with a major in Journalism and a specialization in Television Broadcast. During college, Kasey interned with WTIU/WFIU, West and South Central Indiana's PBS affiliate. She also received a second concentration in French and a minor in Psychology.
Born and raised in Chicago, Kasey attended Lane Tech College Prep High School in the city's Roscoe Village neighborhood. She's thrilled to remain just a short distance from family and friends!
For the latest on Kasey's day-to-day reports, connect with her on Twitter and Facebook. If you have a story tip or idea, send her an email at kasey.chronis@fox.com.
The latest from Kasey Chronis