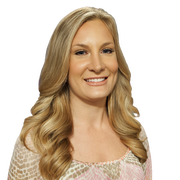 Madeline Anderson
Reporter
I'm thrilled to be working in Wisconsin's largest city! I joined the FOX6 News team as a reporter in June 2016.
Milwaukee is just a short 1 1/2 hours from home for me. I was born and raised in Madison and graduated from the University of Wisconsin-Madison with a double major in journalism and gender and women's studies.
Before coming to Milwaukee, I reported at TV stations in Wausau, Madison, and as far away as Wichita, Kan. Some of the most memorable stories I've covered so far in my career include a mass shooting at Excel Industries in Hesston, Kan., the first-ever child sex trafficking case prosecuted in Marathon County, Wis. and the recall election of Gov. Scott Walker.
When I'm not chasing down the big story of the day, I'm likely playing with my two dogs: Raleigh, a chihuahua, and Juneau, a Siberian husky. They're quite the duo! I'm also passionate about women's issues and am an activist for survivors of domestic violence.
I enjoy covering viewers' compelling stories most. If you have a story idea or just want to say "hi," feel free to email me: madeline.anderson@fox.com.